>

Shop Talk & Batson Stories
---
August 7th 2022
A Fishy Family Affair
Bill Batson and family took a trek to the beach and ended up creating a new angler. See the video on Facebook.
It was a beautiful summer day in the Great Pacific Northwest. We decided to take a hike to one of our favorite Surf Perch fishing spots. My Beautiful Wife (Shelley) my Son (Keller) and my Youngest Daughter (Eden.) It was one of those days you dream about with fish after fish coming in.. Lots of laughter and some friendly family banter>>who has the most, who has the biggest...
In this particular spot other hikers and coming by once in a while.. All stopping to watch us having fun catching and releasing all of these fish. This one boy was very intrigued by what we were doing. I could see him out of the corner of my eye so I asked him if he wanted to try? He was very shy and just looked at his parents, so I asked his parents if he wanted to try. They said he has never caught a fish before, just then I hooked another one. I looked back at him and said here you go want to reel it in.. His eye got so big and he said YES PLEASE...So I handed him the rod, it was a 12' salmon rod (BP1446F-M) so it was a bit much for him. So, as you can see in the video, I helped him balance the rod by holding the top part while he reeled it in. He could feel the fish on the rod so he knew he had something. It was great to see the smile and SHARE the excitement with this young boy.. His family thanked me and we took plenty of pictures then Safely released the fish. These types of memories will last a lifetime for this young boy and his family. I am blessed to have been in the position to make that happen for them. " Remember that time we were hiking and I caught that big fish off the beach"
-FishOn
---
August 2nd 2023
Simple Spiral Wrap Rod Build with Fish Alaska Magazine
Fish Alaska Magazine staffers George Krumm and Marcus Weiner build and fish a spiral-wrapped Rainshadow Vertical Jigging Blank Model RCKJB600-112.
Spiral wrapped fishing rods are stable under heavy loads, making them especially well suited to fishing for large Alaska bottomfish. The simple spiral is the simplest, and for many types of rods, arguably most effective way to spiral wrap a fishing rod. There is a reason it is called the "simple spiral." There aren't numerous transition guides set at multiple, varying degrees of offset.

The simple spiral is easy to layout, that doesn't mean it's not as good as other spiral wrapped fishing rod methods. On the contrary, for most types of rods, it is arguably the best spiral wrap method because the line is routed from the top of the rod blank to the bottom with the fewest number of guides....read more
---
January 4th 2023
Tackle Tour Review of Eternity RX10 BFS Build
BFS (Bait Finesse System) rod builds are becoming very popular very quick. Tackle Tour reviews their custom BFS build created on Eternity RX10 model ETES72ML.
Check out this great RX10 performance review and detailed specs put together by Cal over at TackleTour.com. He built an ultra light, ultra sensitive BFS rod on one of the finest blanks Rainshadow offers. Cal's article doesn't just do a great job of highlighting the features of Rainshadow's flagship freshwater rod blank series, it also provides an interesting view into his own unique processes when designing and building a custom fishing rod.
---
November 2nd 2022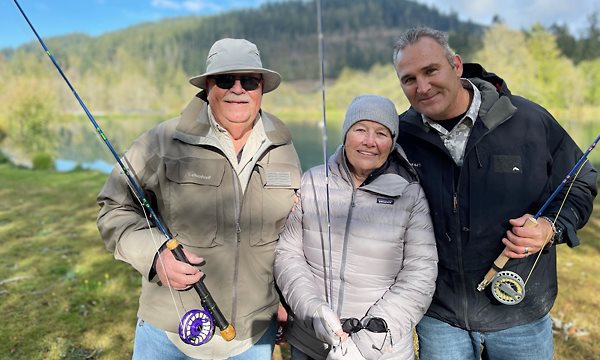 A Batson Visit with Rod Building Industry Legend Garry Land
Garry pays a visit to Batson HQ and explores the Olympic Peninsula. Bill and Garry talk rod building history and swap a few good stories.
We're always glad to get a visit from the great Garry Land. Click below to read our bio on Garry and checkout his interview with Bill Batson.
---
September 20th 2022
Albacore Tuna Fishing with Team Rainshadow and Far Corners Sportfishing
Join the Batson Crew for a day of albacore fishing off Washington's Pacific Coast with Team Rainshadow Pro Staff Charter - Far Corners Sportfishing.
Every summer the Batson family and staff gear up for one of our favorite offshore fisheries - albacore tuna. Anglers run 30-80 miles offshore to the Pacific's continental shelf to chase these long-finned beauties. Click below to get the full story and see the Batson Crew give their Rainshadow rods a workout.
---
December 5th 2022
Why Industry Pros Do Business with Batson
Batson proudly serves the fishing industry's most successful custom fishing rod builders, distributors, OEM fishing rod manufacturers, and fishing charters. See what they have to say about us.
"In my business, QUALITY is extremely important and we can honestly say that when we send out rods with the Batson blanks, guides, and reels seats, we can feel confident that the customer will be 100% satisfied and they are getting a true quality custom made rod that they can enjoy for many years." - Bryan Connley, Connley Fishing
---
November 6th 2022
From Redfish Champs to Redfish G.O.A.T.s
Sean O'Connell and Edward Adams Win 2022 Yamaha Bassmaster Redfish Cup Championship
It's rare in the world of professional tournament angling for a team to post back-to-back wins, let alone 4 or 5.
---